A More Perfect Union (2017)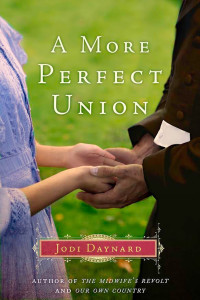 The story continues fifteen years later, when, in 1794, Eliza's son, Johnny Watkins, returns to America from Barbados, intent on becoming a great statesman. Even his hero, John Adams, believes the gifted boy will go far. There's just one catch: Johnny must learn to pass for white.
He finds a spirited and lovely confidante in Kate, one of the few who knows that Johnny's father had been born a slave. But as he moves closer toward the new city of Washington, Johnny leaves Kate behind, falling instead for a prominent Maryland heiress who may not have his best interests at heart. Embroiled in the vicious politics of the approaching election, Johnny lives every moment at risk of being unmasked.
Then, a discovery about Thomas Jefferson, one that could sway the election, imperils not only Johnny's future but also his life. In the end, Johnny learns who his real friends are—and the truth behind the great promise of life, liberty, and the pursuit of happiness.