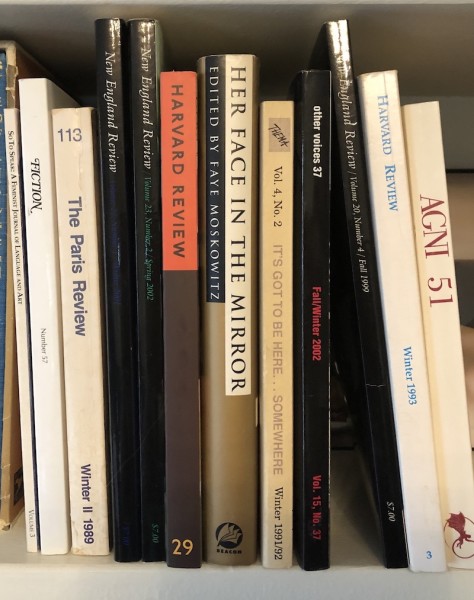 I have published many personal essays and short stories. But my first published pieces were book reviews for Publishers Weekly, The Village Voice, The New York Times, and elsewhere. Now that I know just how hard it is to create and publish a book, I'm less interested in critiquing someone's work. But writing book reviews, I realize in hindsight, was an excellent means of developing my voice.
There is a funny (true) story in my first youthful publications.  In my twenties, I worked as a temp, usually the evening shift. These positions shifted every few weeks or months and allowed me to write by day. At the time I began to review for The New York Times, I happened to have a long-term temp job at–the New York Times. I was on the 11th floor for my temp job, and my editor for the Book Review was on the 5th floor.  Oh, I lived in absolute terror of running in to him! Having lunch with him or visiting the Book Review, I proudly wore my writer's hat. But what if they discovered the truth: that I was really a lowly temp, typing up papers on the 11th floor? Every time I went to lunch at the cafeteria I peered around the walls to make sure my editor was no where in sight. It was torture.
Soon after, I began to publish essays and short stories. Waiting to receive acceptances was agonizingly slow, though. And at some point, I realized that in the time it took to get my short pieces published, I could write a novel. And so I did.
Reviews for the Boston Globe
https://bostonglobe.newspapers.com/search/#query=jodi+daynard
Reviews for the New York Times
https://www.nytimes.com/search?query=jodi%20daynard&sort=best
Reviews for the Philadelphia Inquirer
https://www.newspapers.com/search/#lnd=1&query=jodi+daynard&t=4352